The most tightly integrated CRM with QuickBooks Online
It was almost a year ago that we released the Actions Saleswah CRM with QuickBooks on the Intuit Appstore.
There is a huge difference between how we approach CRM with QuickBooks integration and how some others do.
Simply put, we build the functionalities in Saleswah CRM and let QuickBooks do what it does best- which is accounting and book-keeping.
And, then we link them.
This helps in ensuring that QuickBooks and Saleswah CRM are both on the same page. But, they do not get in each other's way.
The fundamental premise behind CRM for QuickBooks Online
Our thinking when we set out to do the integration was to ask: "who will use which software within the organization"?
And, our answer was pretty straightforward. We were clear that accounting folks will use QuickBooks- for accounting: booking, billing, collections and reporting. But, not the sales guys or the customer support guys. They will use Saleswah CRM for running Sales and Service operations.
So, Saleswah CRM for QuickBooks integration will need to cater to primarily 2 constituencies.
In order of priorities, they are:
Sales and support personnel who are the primary users of Saleswah CRM for managing customer facing activities:

Sending quotations (sales)/ repair estimates (support)
Invoicing and receipt of payments

Accounting people, who are the primary users of QuickBooks will continue to use QuickBooks for their usual work. They can still use QuickBooks for raising invoices, sending quotations or creating the master list of products and services.
Plus, of course, for reconciliation of accounts, financial reporting and so on.
Clear priorities for CRM with QuickBooks integration
So, Saleswah CRM is not an afterthought CRM. It focuses on the primary constituency – sales and support personnel who are the primary users. We don't think accountants will see much value in using a CRM. So, there is not much for them in Saleswah. Nor will Sales people or support team find much to do in an accounting software.
But, raising an estimate and an invoice is a task that sales and service people do. And often.
So, we figured that we should have a CRM that allows the sales people and the customer service people to create estimates- with or without QuickBooks connectivity. The purpose of the CRM with QuickBooks integration will be to
Allow maintaining the product list (with prices) in a central place- under tight control (admin user access only).
Push the invoices generated in Saleswah CRM to QuickBooks. This is to facilitate book keeping and financial reporting.
Pull the Contact Lists from QuickBooks to Saleswah CRM
Pull the unpaid invoices generated by the accounting department into Saleswah. The purpose is to have the sales people chase them for payments.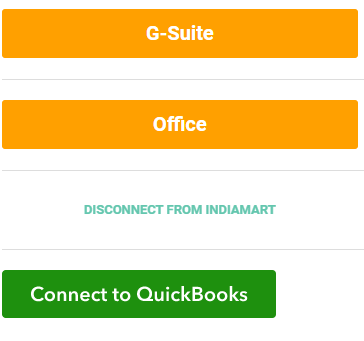 The Saleswah CRM for QuickBooks integration logic
Once you link your QuickBooks account with Saleswah, relevant data from Saleswah will be updated in QuickBooks silently. You can also push contacts, products/ spares and invoices from Saleswah to QuickBooks.
How to link Saleswah CRM with QuickBooks Online?
If you are an admin (for your company) of QuickBooks Online- and do not yet have Saleswah CRM, then go to the appstore and click on Actions Saleswah CRM.
If you are a Saleswah CRM admin and wish to link your QuickBooks Online account with Saleswah, then go to the Saleswah CRM admin, and click on Connect to QuickBooks Online.
Saleswah CRM with QuickBooks data exchange logic
Products and spares: you can fetch your products (or spares)/ price list from QuickBooks into Saleswah. Simply click the Connect button. Spares/ Products: if item category in QuickBooks is spares, it will go to Spares; if not it will go to Products list in Saleswah
(Warning: please ensure that your spares parts are categorized as Spares in QuickBooks so that they can be brought to the spares list in Saleswah.)
Remember, any changes that you make in Saleswah to any of these products and spares, will be updated in QuickBooks. We don't delete products automatically- so, you need to remove products from the list on both the platforms. Any new products or spares you add in Saleswah, will get automatically added to QuickBooks.
Right now, all products and spares are being inserted from Saleswah to QuickBooks as "Non-inventory".
Invoices Fetch the list of your unpaid invoices from QuickBooks so your sales team can follow up for payments. Any invoice you generate in Saleswah will automatically get inserted in QuickBooks.
Contacts You can pull your business contacts in QuickBooks to Saleswah. They will be marked as billing contacts in Saleswah. Also, any contact you mark as a billing contact (by ticking the checkbox in the Contact details pane)- will get sent to QuickBooks.