Months back, we wrote a post on Sales lead qualification. It was called A meaningful Sales Forecast.
Our qualification process, what is employed by Saleswah, is still driven by BANT- the sales model that IBM introduced decades back. Several recent attempts aver that it is an outdated method, but, we continue to believe in it. We still believe that getting a proper answer to the Budget, Authority (Decision maker), Need and Time (time frame of decision making) questions are critical to proper forecasting.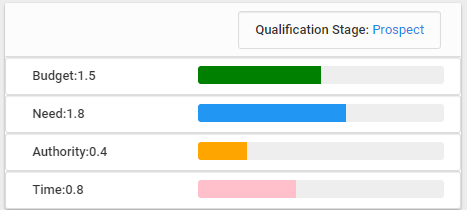 Among all the attacks on BANT that you see on the web, there are two broad categories:
One notion is that BANT is an early stage lead qualification process. Further, the way it is employed is by somehow getting customers to fill up a form with several leading questions. (Are you planning to purchase in the next 3 months? What is your budget? Do you have approval to spend? And, so on). Customers are no more likely to answer those questions, truthfully than a terrorist answer the security related questions on the DS-160 form ("Are you a member of a terrorist organization?" LOL) ! The broad thrust is argued here, see below:
Fifteen years ago I worked for a B2B marketing agency that had an outbound call center focused on lead generation. The goal for the majority of our programs was to have our telemarketers qualify names, gather some information and qualify these prospects by the famed BANT (Budget, Authority, Need, Timeframe) criteria. We were quite successful in developing these programs for our clients and the leads were graded based on the answer to the BANT questions. That was then, this is now. We are smack in the middle of marketing 2.0, a more "modern" way of marketing that makes BANT no longer effective for several reasons.
via Why BANT No Longer Applies for B2B Lead Qualification | ANNUITAS.
BANT was never, and should never have been employed as an early stage sales lead qualification process. It is lazy marketers with pretenses to understanding a sales process who introduced those "response cards" and "seminar feedback forms" with those leading questions. Leads qualified through those, have always found their way to the trash. For BANT to work for sales lead qualification, the revenue responsible sales person has to be responsible for qualification. It always was and it always will be. BANT is a B2B sales lead qualification process and it is NOT employed at early stage.
Having got that off my chest, let me tackle the other attack on BANT; which is: "it is outdated, and we have something better". So, we have acronyms like FAINT.
Impact
This is – to my mind – the critical addition. It's not enough for your prospect to agree that a need exists. They also need to acknowledge that not dealing with the issue will have a measurable impact on their organisation in terms of reduced revenues or increased costs. If you can't get your prospect to calculate and agree the negative impact of doing nothing you would be well advised to try harder or qualify out.

–via Why the case for BANT qualification is getting FAINTer.
Now, it is quite a well written piece, the one above. And I do concede that your solution must have Impact (that is what the I stands for in FAINT) on the customer's organization far more than its cost. But, I contend that big ticket salesmen anyway interpreted the Need question to include Impact- if no impact, the customer had no need for your solution anyway.
But, for most B2B sales, BANT still rules for sales lead qualification. Not enough case has been made for its abandonment.