Who is Saleswah CRM for?
Saleswah CRM works for sales teams, small and big – who depend on getting sales leads from new customers to make their target.
If your organization has an ongoing marketing programme for lead generation: you advertise in websites and newspapers, you participate in roadshows (in malls and in group housing societies etc), you participate in trade-fairs: then you should get Saleswah CRM for everyone of your sales team.
If you are relying on marketing to generate the buzz, the excitement and leads, Saleswah CRM puts the focus on bridging the gap between marketing and sales. Capturing leads and managing them through the sales cycle is what Saleswah CRM does best.
What is the cost of missing a lead?
Let's do the math- a classified ad in TOI Delhi for property costs about Rs 5000/- and those in online portals costs anything between Rs 1200/- to Rs 2500/-. A property dealer in hot markets like the Delhi NCR, Pune, Bangalore etc would easily spend Rs 50,000/- a month advertising. And these are dealers that have 2-3 sales guys and perhaps do 1-4 "sales" transactions and "2-5" "lease" transactions. In order to do this level of work, he has to make sure he gets at least 400 "leads"- folks who call him up and inquire about the properties he has a mandate for and he has advertised.
The trouble about advertising is not that 90% of it is useless spending; we know that. The trouble is, we do not know which 90%!
How do you get the leads anyway?
Do your customers call you/ email you/ sms you? How many walk in through your front door? And, surely, no one, no one these days ever writes in? Do they leave their details on your website?
What is your process of capturing a lead?
Once you get an sms, or a phone call or a email or queries forwarded from the website/ newspaper where you may have placed a classified, the fastest you can note it down and send it to your sales team to follow up, the better your chances of closing business.
What in reality happens is that you note down the call details or the number sent on email and send it to the sales guy in your team. "Most of the time". And, your sales guys will follow through and make the connect- "most of the time". And you will remember the leads you passed on to them in the morning by the time evening comes and you can review the day with your team- "some of the time".

Do you want to guess what happens to the leads that get missed out on? They go to competition "all the time"!
Do you know what proportion of your leads get addressed, which ones were followed up and which ones you closed?
Do you know where you got most of your enquiries from?
Do you know enquiries from which source are normally more productive?
How do you bridge the gap between marketing and sales:
Log and assign all leads, as they come: Saleswah helps you quickly and efficiently log all incoming calls. Note down name, contact details – phone, mobile, email- as much or as little as is available or useful and click a button to send the details to your sales guy on his mobile app. The incoming call logging can be done by anyone with an access to the system; your receptionist, your secretary, you, your marketing team member, the salesman himself..
Update lead status and track through stages, online: The fact that you have done this is remembered by the software; and when your team updates the status of the follow up, you get to see it too; online! The status of the lead, as it goes through stages can be seen by the salesman and his superiors.
Assign and schedule tasks/ activities: You can use Saleswah Basic for scheduling meetings, assigning work to your team – go pick up the cheque, schedule a site visit, draw up the agreement- whatever. And, track the status of the tasks as well.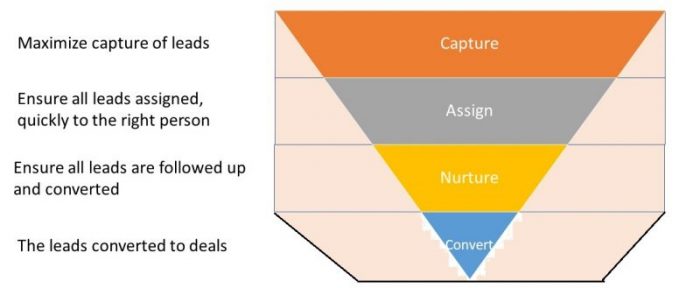 If you have products and or services to sell to other companies, big or small; Saleswah Basic will work for you.